How to add multimedia files for a specific activity.
Photos and videos of the activities can be uploaded to the system to allow customers to download or purchase the item they prefer. You need to install the plug-in for this type of functionality with an ORA developer.
This is a short guide on how to do the whole process:
1. Create a group of media files
Click on the icon to open the Multimedia list. This list shows the groups of files you have created.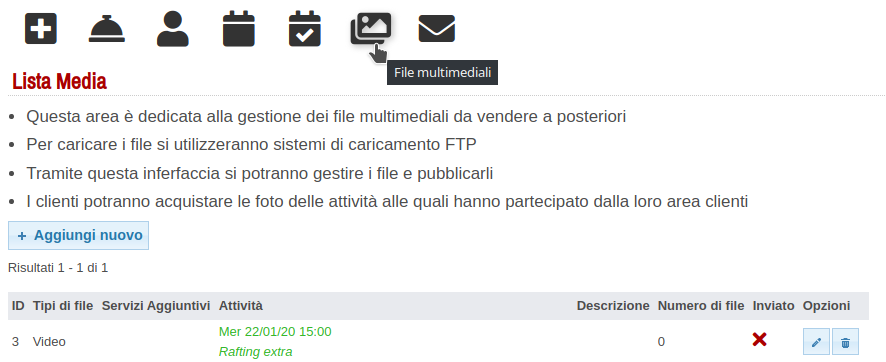 Click Add new to add a new group of files.

Note : The Sent field indicates whether a notification has been sent to the customer inviting him to download the files. (to be used only if you are aware)
2. Upload the files
Once you have pressed the Save button you can go to load the multimedia files.

3. Automatic customer notification
If agreed with the developer NOW, customers who have a confirmed reservation for the specific activity, will receive an email (generally at 5:00 in the morning) in the event that media files are found valid.
You can force mail delivery if you hit the send notification button.
After sending the notification, the Sent field will change to SI.
4. Manual notification
The administrator can resend a download notification from the Reservations area by selecting the reservation and clicking SEND -> MULTIMEDIA FILES.