The discount code type area is used to add, delete or modify the types of codes discount.
Discount codes are single elements characterized by a sequence of numbers and letters. Discount codes always refer to a type of discount code that contains all the details such as: discount amount, timing, name, activity, etc ...
Add a new type of discount code
1. In the discount code type view, click Add new .
(If there are already existing codes you can modify or delete them with the buttons on the right)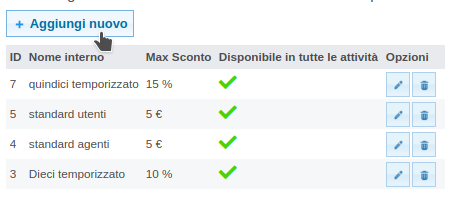 2. Set all required parameters using the question mark shaped Help function.
3. Set the first interval with a discount value and duration.
If you wish to have multiple discount ranges with different values, use the following values.

4. Define the activities for which the discount can be used.
5. Enter a text explanation for the type of code.
6. Define whether the code can be cumulative or not and whether it can be used to purchase a Voucher.
NOTE! The percentage discount non can be cumulative.
Voucher
Read the article: how to create a Voucher